Safe sleep is the focus of a new statewide campaign launched this month by the Department of Child Safety's Office of Prevention in partnership with several other organizations, including the Arizona Chapter of the American Academy of Pediatrics and First Things First.
The Safe Sleep campaign aims to educate families with babies about safe sleep practices. In 2017, 83 babies died in Arizona because of unsafe sleep environments. And 60% of those infants died while co-sleeping or bed-sharing.
Because of the life-threatening dangers of unsafe sleep environments, the DCS Office of Prevention has always promoted safe sleep, but this year the campaign is bolstered by several new partnerships. Governor Doug Ducey has proclaimed October as Safe Sleep Awareness Month in Arizona in conjunction with national recognition of safe sleep during this month.
In addition, the Arizona Chapter of the American Academy of Pediatrics will be promoting a safe sleep checklist and pledge form that pediatricians are encouraged to share with families.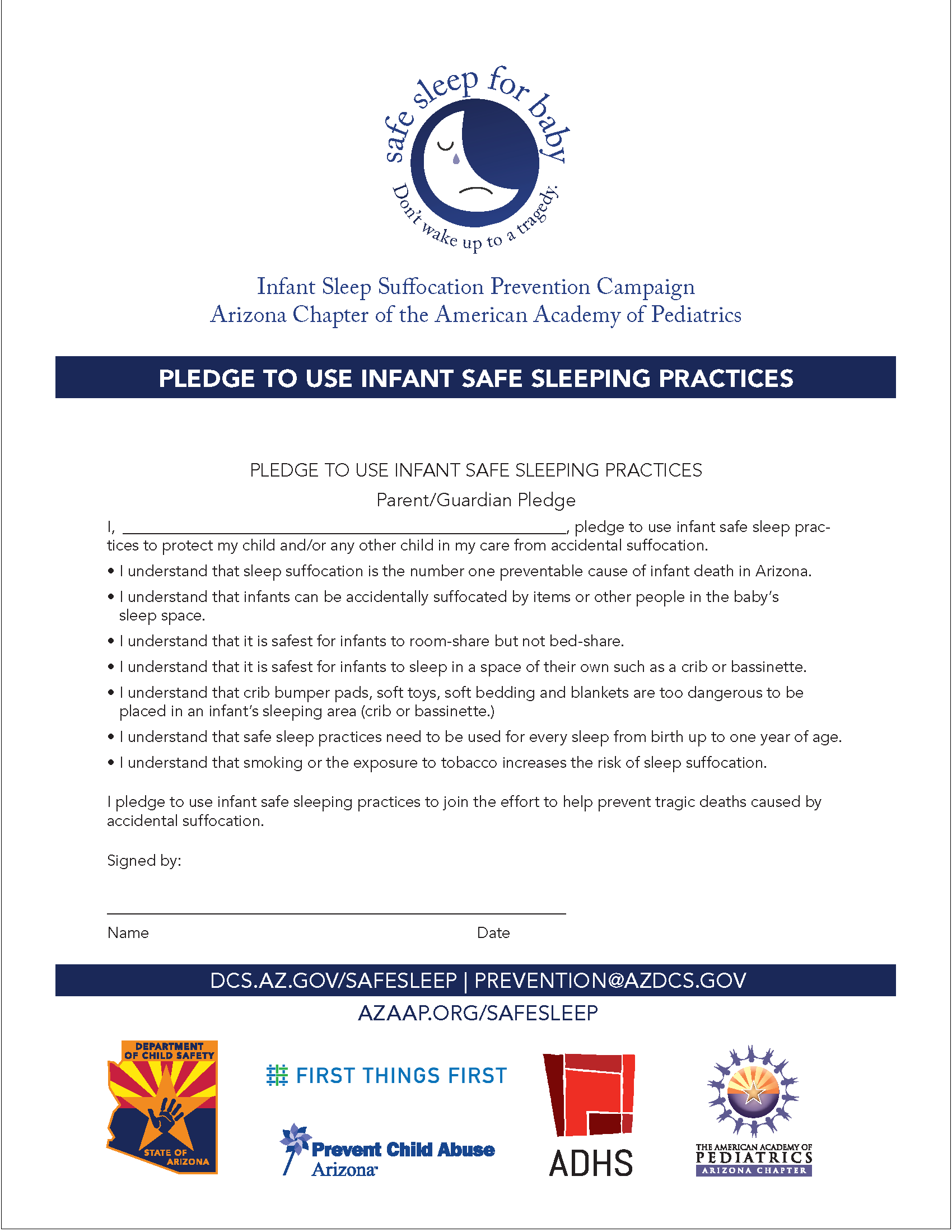 The checklist offers key actions families can do to create a safe sleep space in their home. These include:
Keep a separate sleeping space for the baby such as a crib or bassinet so that a baby is not sharing a bed. Families are encouraged to share a room with baby until age 1.
The separate sleeping space should have a firm mattress with a fitted sheet. Remove all other bedding (including blankets, pillows and bumpers) and remove clutter (including stuffed animals and toys).
The room temperature should not be too warm. If the room temperature is comfortable for an adult, no extra heat is needed.
No smoking in the baby's home.
The long-standing message about how to create a safe sleep environment hasn't changed, but the increased partnerships will hopefully reach more families, said Sue Smith, Statewide Prevention Administrator with the DCS Office of Prevention. Other partners include Arizona Department of Health Services and Prevent Child Abuse Arizona.
"We hope to get the word out here in Arizona by partnering with pediatricians and others who work with families with young children," she said.
Along with the checklist and pledge form, the Arizona campaign includes posters, an advertising campaign and an online site with tips for talking about safe sleep with families, video testimonials and other resources.