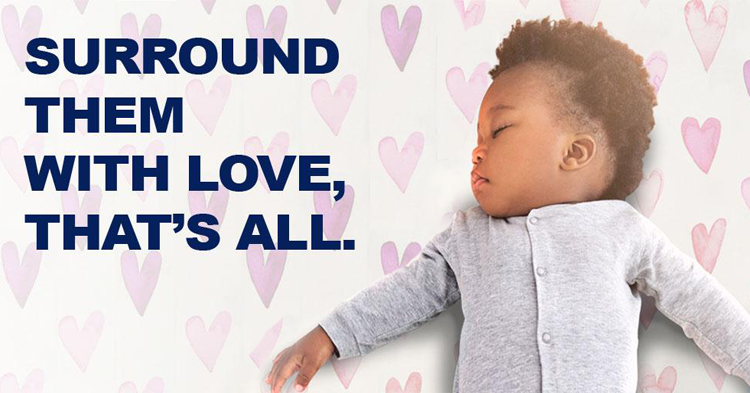 It's a fact that can be shocking to learn: in 2017, 83 babies died in Arizona because of unsafe sleep environments. And 60 percent of those infants died while co-sleeping/bed sharing.
The Arizona Department of Child Safety's Office of Prevention recently debuted its Safe Sleep campaign, which aims to educate families with babies about safe sleep practices and provide them with resources including access to a baby box or even a crib, if needed.
Throughout the month of February, the agency is encouraging all Arizonans to share the message about the importance of safe sleep environment. This is especially important, as Sudden Infant Death Syndrome, or SIDS, is the leading cause of preventable infant death for babies ages 1 month to 1 year old, according to the Centers for Disease Control and Prevention.
In Arizona, sleep suffocation is the leading cause of death for infants, said Vanessa Bustillos, the statewide prevention coordinator for the DCS Office of Prevention.
"The main message is that it can happen to anyone," Bustillos said. "Every month in Arizona, there are multiple unsafe sleep fatalities."
Follow the ABCs
The campaign encourages parents and caregivers to follow the ABCs of safe sleep: alone, back, crib. In other words, the baby should sleep alone, on his or her back and in a crib, which is the safest place for babies to sleep. Cribs should not include bumpers, pillows, blankets or toys. Lay babies on their back every time they nap or sleep.
Another part of the campaign is a video of families sharing their stories of how their baby died after being placed in an unsafe sleep environment.
"I get a lot of feedback that the video is moving and persuading people to change their mind and behavior," Bustillos said.
Other safe sleep tips include:
Provide a firm mattress and tight fitting crib sheet.
Do not overdress or overheat the baby.
Keep the baby's face uncovered.
Do not smoke around the baby.
Remove all items from the sleep area.
Parents are also encouraged to avoid co-sleeping or bed sharing with their baby.
"One of the more frequent things we hear are families who say, 'Our baby sleeps in our bed and our whole family has done it that way,'" Bustillos said. "They don't understand how high of a risk it is."
Additional best practices include:
Avoid letting babies sleep alone on sofas or with other people.
Avoid propping baby up or bottle propping.
Teach fathers and other caretakers about safe sleep.
After breastfeeding, move baby into a crib to sleep.
Spread the message
Bustillos is aware that the only families that her office comes in contact with are those that are working with DCS, which is why she encourages others to spread the message of safe sleep.
"We dedicated this month to get the conversation started around safe sleep and spread the word outside of DCS," she said. "Anyone can be a safe sleep advocate. There are flyers, posters and other materials that we are happy to share. They can also share our message from our social media pages."
For more information email: officeofprevention@azdcs.gov.