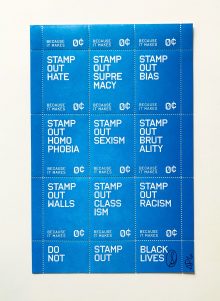 Typographer Tré Seals created a series of STAMP OUT (insert bad ism) stamps on a police blue letterpress sheet using his font William. Benefits Movement for Black Lives.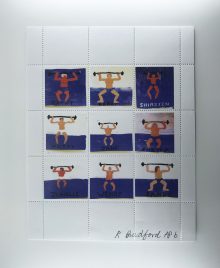 Eight strong woman portraits by New York based painter Katherine Bradford make up her first stamp sheet, a signed limited edition artistamp.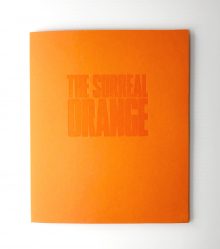 The Surreal Orange is a suite of 10 digital offset prints with spot varnish including a vellum cover sheet in a signed orange letterpress folder.
Jesse LeDoux likes to find ways to collaborate with the viewer and hopes you arrange these 2-color letterpress stamps in a way that is meaningful to you.
Rick Valicenti is a Chicago-based designer, producer, director, and collaborator known for his experimentation and early adoption of technology. Printed offset digital with spot iridescent varnish and letterpress.
This two-color blue and metallic gold risograph print by Oana Befort grows out of her Romanian roots, and her exploration and redrawing of Romanian folk motifs.
A pair of 8.5" x 5.5" sheets by San Francisco designer / photographer Martin Venezky created by using only the blank perforated sheets themselves.
The exhibition catalogue for "Weekend Plans," Matthew's Karuizawa New Art Museum show. Each sheet is signed, dated, rubber-stamped & numbered. 100 were made, half went to the opening in Japan.
Sarah Wildfang is a artist in San Francisco. She is very fond of stamps, cats, and puns so she decided to make a stamp "Catalogue" (lol) for her artistamp.
An artist & printmaker living in Leavenworth, Washington. Her work links to a sense of place through botanical subject matter. These stamps highlight spectacular native species in her area.
Stamp No. 20Eric W. Mast (aka E*Rock)
Eric W. Mast (aka E*Rock) is a Portland, Oregon visual artist and musician. His first stamp is a three-color risograph signed edition of 100.
Ryan Bubnis is a multidisciplinary artist, illustrator, and educator based in Portland, Oregon. His deceptively simple work explores themes of memory, nostalgia, good vibes, and the human condition. 
Na Kim's visual language explores perception of shapes in space. We met Na at her FISK Gallery show and invited her to make a stamp. She made two!
For his first stamp, Shawn Wolfe created a "transpartisan, unaffiliated stamp design" featuring a new image of an old subject matter—the seldom seen Remover Installer™.
With her limited edition letterpress artistamp, Jennifer Armburst shares her 12 principles for prototyping a feminist business. Radical reminders to stick around your business.
For Artist Series stamp No. 15 Jeff Keedy and Ian Lynam have joined forces. We're quite happy to collaborate with these two distinguished graphic designers, educators, and typographers.
Melody Owen is an ecologically minded artist and writer raised in the mossy, green state of Oregon. She's interested in animals as subjective beings and challenging our assumptions about reality.
Tear Up This Wall: All proceeds from artist and designer Bráulio Amado's signed limited edition silkscreen stamps benefit Caraprobono, an organization working to help immigrants at the border.
Mike Savage's paintings are a meditative diary: handmade analogue recordings. For his artistamp—a folded 11" x 4.25" sheet—he hand perforated each sheet individually and uniquely.
Charles Wilkin is an artist, designer, and beekeeper. His limited edition artistamp collages together recent and old works to form something entirely new.
Portland based artist Malia Jensen creates her first stamp, a printed provocation, part of her "Changing Money" series featuring a portrait of Ruth Bader Ginsberg.
Christina Seely's artist stamp features photographs of endangered animal specimens from a set of kinetic mirrored light box portraits called Next of Kin.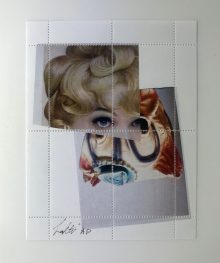 Contemporary artist Cynthia Lahti believes that even small artifacts can evoke powerful feelings. This signed, limited edition of 100 is her first stamp.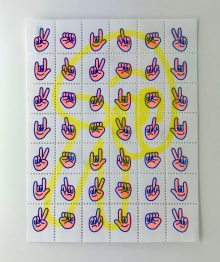 When Jason's not drawing you can find him hunting illustrated ephemera with his wife and son. His artistamp sheet features hand icons peace, love, rock 'n' roll, and misunderstanding.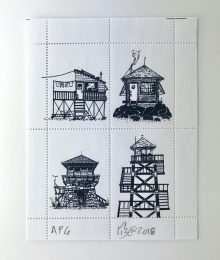 Walker Cahall is an illustrator, designer, maker, teacher, and worldly thinker based in Portland. His stamps feature hand silkscreened drawings of ranger lookout towers.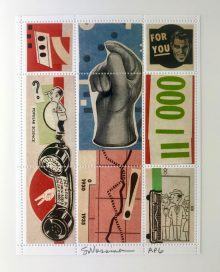 Sally Wassink aka S. Wurlitzer, is an artist who lives and works in San Francisco. Recently she's become obsessed with the design and color treatments of old Popular Science magazines.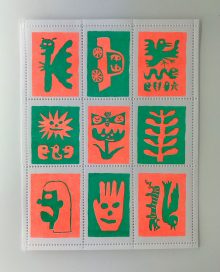 A painter and sculptor based in Tokyo, Japan. Okawara creates paintings and 3D objects inspired by his postcard exchange with his grandmother during his childhood.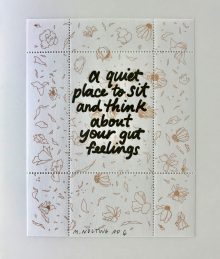 With this stamp art director and illustrator Mia Nolting contemplates the importance of feelings in the body, in being crucial to decision-making. Printed with a combination of letterpress and digital.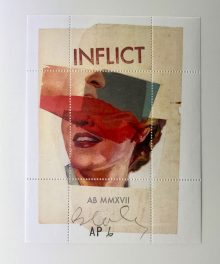 Artistamp No. 2 is by Brooklyn-based Canadian collage artist Allan Bealy. Each sheet in the edition of 100 is individually rubber-stamped and signed by Allan.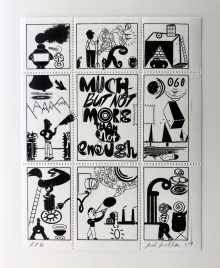 The first limited-edition stamp features the work of Los Angeles artist-designer Ed Fella who collaged and reassembled every little element from past work.
The Artist Series is an ongoing collaboration between The Portland Stamp Company and invited designers, artists, and writers who create original poster stamp designs. 
Upcoming releases include Katherine Bradford, Alyn Smith, and April Greiman.